Turn your vehicle into a moving billboard
Did you know that over 90% of viewers remember vehicle signage, and over 70% form an impression about the business based on their vehicle graphics?
Commercial vehicle wraps or signs come in all sorts of shapes and sizes, designed to meet the specific advertising needs of your business and your budget. 
Signs can be made up of 
Computer Cut decals or lettering 
Digitally printed vinyl, which can also be cut to shapes or lettering
Digitally printed media or coloured vinyl which involves covering every area of the vehicle in colour, information and branding elements. 
all signs print and design ask a lot of questions when we are discussing your vehicle signage.  We need to get to know you, your business, your likes and dislikes, we can then start the design process to develop the right design for you.
All great vehicle wraps and vehicle signs start with planning the process, which can generally be prepared in 4 easy steps.
Bring the vehicle to the consult
If at all possible, bring the vehicle to the consult. This will help us to see all available real estate, then identify any potential areas that may need special attention, for example; rust, ridges, existing vehicle badges. 
Seeing these things ahead of time will ensure all signs print & design can work around them. No one wants a surprise come installation day. It can also help all signs print & design get a better idea of the placement of graphics or lettering in relation to windows, door handles, or body ridges. All these elements need to be considered when designing the vehicle signage.
COMMUNICATION​ & branding
It is important to communicate your business story within your vehicle graphics. all signs print & design have a great deal of industry experience designing your graphics to communicate your message.  Enhancing particular design element from your branding can give you the point of difference you may need to set your business apart from your competition.
Your signs will most certainly contain your existing branding, so bringing examples or artwork files with you to the initial consult would be helpful. Make sure that the files you provide are in vector format, with any images being hi resolution.
How much signage do you need on your vehicle?  The style of wrap or vehicle graphics can be determined by your budget or how much of the vehicle you want to cover, or the length of time you will have the vehicle in your fleet.
You may be surprised to know that not all vehicle signage needs to be a full wrap to be effective.  The all signs print & design team have extensive experience designing vehicle signs that will surpass your expectations.
In addition to having a particular coverage and style of vehicle graphics or wrap in mind, it also helps to do some research on existing signage that have been completed in your industry. For example if your a landscaper; what suits your business best; a cartoon like floral look, an abstract green look or a photo-realistic garden look? 
Having an idea in mind, or even just knowing what you DON'T like helps all signs print & design narrow down the possibilities for your vehicle design.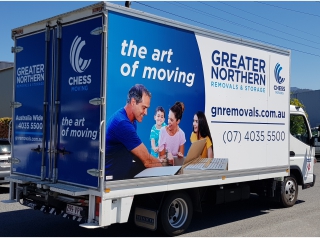 Greater Northern Removals
Gift of the Gab Party Shop
Big Cat Green Island Cruises
The Building Approvals Company
Get Inspired, be Motivated
You can rely on all signs print & design to exceed your expectations.  Our clients recommend us 100% of the time.